Centrally located and very easy to find ~ close walking distance to all leading restaurants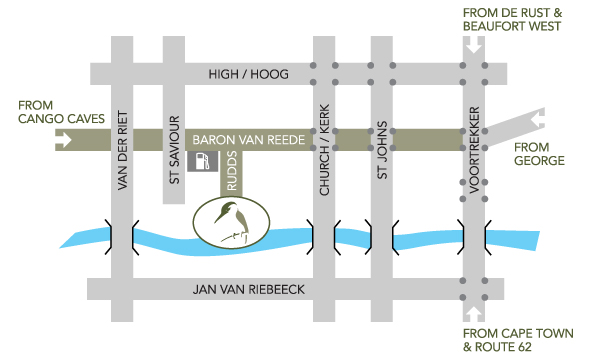 Sign posted along Baron van Reede St, the main street through Oudtshoorn. 100 metres after Church Street traffic lights in the direction of the Cango Caves, just before the Total Garage (on the left).
Map: Click here for a comprehensive map of how to get to the Yotclub B&B to take with you on your travels. You will need Adobe PDF reader to view this file.

Yotclub B&B
9 Rudds Lane, Oudtshoorn, 6620 (just off Baron van Reede St)
Klein Karoo, Western Cape, South Africa
Your hosts:
Winfrid & Cynthia

Tel:

+27 (0) 44 279 2247

Cell:
+27 (0) 818 34 68 36

GPS coordinates:

S33 35.196 | E22 12.148

Website:

email:
map_canvas_18